Recommended Book
Good Fat : The Good Fat Cookbook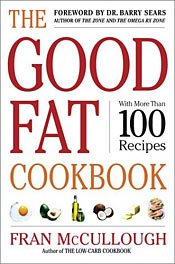 The Good Fat Cookbook
The Good Fat Cookbook explodes the myth of low-fat eating as a healthy choice and explains why REAL fats that people around the world have eaten for centuries are extremely good for you. Everything from coconut, avocados, nuts, butter, olive oil, fatty fish, eggs, cheese, even bacon, have a role to play in your good health. Chocolate, too, because it has more antioxidants than any food yet tested.
The cutting edge science on these subjects is explained clearly and simply and there's essential information on seeking out the best of each category of good fat - which canned tuna not only tastes best, but has the least mercury; why you should choose flax seed instead of flax oil; how to avoid toxic trans fats, which are all through the food supply. Plus 100 recipes to put it all to good use.
From Publishers Weekly
Since the 1970s, dieters have eliminated fat, yet over those years the obesity rate in America has increased 25%, explains McCullough (Low-Carb Cookbook). Demystifying concepts like HDL and LDL cholesterol, fish oil supplements, triglycerides, saturated, unsaturated, and trans fats, McCullough helps readers navigate the labyrinth of food selection. She builds on the work of Atkins, Dr. Melvin Anchell (Steak Lover's Diet), Gary Taubes, Dr. Mary Enig and the eye-opening 2001 Harvard Nurses' study (which showed no relationship between total fat consumption and heart disease). McCullough persuasively argues that highly processed foods are the worst to eat. We are still far from knowing the many mysteries of diet (soy is called into question), and while this book offers no comprehensive diet plan, it does advocate for moderation and traditional whole foods. Each "good" food-seafood, meats, coconut, eggs, butter and dairy products, avocado, walnuts-has a helpful Do's and Don'ts section. Recipes like Thai Seafood Chowder, Greek lemony Fried Potatoes (which uses olive oil), and Massaman Curry with Sweet Potatoes and Peanuts make it easy to incorporate good fats into a healthy diet. This book helps readers distinguish myth from reality in the search for better nutrition and weight loss.
Copyright 2003 Reed Business Information, Inc
Available at Amazon.com: Hardcover!