Low-Carb : Living Low Carb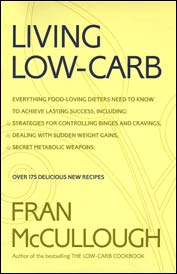 Living Low-Carb
Everything food-loving dieters need to know to achieve lasting success, including:
Strategies for controlling binges and cravings
Dealing with sudden weight gains
Secret metabolic weapons
From the Book Jacket:
In Living Low-Carb, Fran McCullough explains the various approaches to the low-carb diet and lifestyle, and helps you figure out which approach-or combination of approaches-is right for you. McCullough sorts through the various objections to the diet raised by the nutritional establishment and tells you what you really need to know. She provides an arsenal of secret weapons and gives special attention to everyday problems, such as how to handle impromptu dinner invitations and how to keep on track while you travel, whether you're backpacking, eating on a plane, or traveling abroad.
A highly respected cookbook editor and author, McCullough sees her subject from a pleasure-eater's perspective. Living Low-Carb includes more than 175 real-food recipes that are simple, delicious, and designed to keep you eating low-carb happily-and healthily for the rest of your life. McCullough has tracked down specialized kitchen tools that make low-carb meals especially easy and enjoyable, and provides sources for finding great low-carb products (including bread). She takes you on a tour of the world of fake sugars and includes a list of Web sites that offer more information and support.
Everyone who stays low-carb for more than a few months eventually finds his or her own way of doing it, and Living Low-Carb features real-life stories from successful low-carb dieters from a wide range of backgrounds. These stories are inspiring and instructive, explaining what people really eat and how the regimen works for them.
Whether you're a low-carb beginner or a long-term dieter who has already solved a health and weight problem and now wants to stay the course, Living Low-Carb is an invaluable resource.
May 15 2000 - Publishers Weekly p.113:
Cookbook editor and writer McCullough credits a low carbohydrate diet with saving her life. McCullough, who diagnosed her own blood clot, admits that she's not as thin as he likes and she's not a physician, but she fervently believes that there are many dieters like herself, who simply cannot chemically process carbohydrates in a healthy way. Therefore, she argues, these people should limit their carbohydrate intake. McCullough presents her case in a logical and convincing way. She first gives an overview of the various popular low-carbohydrate diets and the medical principles behind them. Then she offers basic low-carb diet plans, along with personal anecdotes from people who have been following these plans. The final two-thirds of the book consists of recipes from main dishes to desserts. This is an excellent primer lot anymore who has tried to make sense of the various low-carb diets. McCullough writes in a friendly and approachable style. Her tips on common dieting problems such as avoiding temptation, eating while traveling, finding acceptable bread substitutes, etc., are quite useful and the recipes are tasty and not terribly complicated. This volume makes a fine companion to the author's previous title, the bestselling Low-Carb Cookbook.