FranMcCullough.com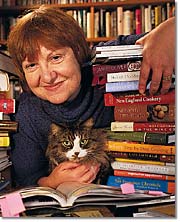 The site is a work in progress, when it is complete it will feature the following:
--excerpts from all of Fran McCullough's books,
The Low-Carb Cookbook (Hyperion, 1997)
Living Low-Carb (Little, Brown, 2000)
The Good Fat Cookbook (Scribner, 2003)
Fran is also the series editor of Best American Recipes, an annual collection that's part of Houghton Mifflin's BEST series (Best American Short Stories, etc.) Every year since 1999, there's been a Best American Recipes. (This year's collection was chosen by Gene Shalit as one of his ten best cookbooks for the Today Show.) And yes, low-carb fans, there are many low-carb recipes there (which will be identified) as there are in The Good Fat Cookbook (about 70% of the recipes are low-carb.)
Also on the site will be: recommended products, new recipes, the latest science on eating and health. So stay tuned: meantime, here's a sample of the text to come. The fats you consume (and don't consume) are the most important element of your overall good health, so listen up...
The Latest News
Sunday January 4, 2004
Nutrition: Thinking About Mad Cows
First of all, this is a GOOD development. It forces the governmental agencies and the meat producers, who have resisted imposing public safety regulations, to do an about-face and seriously consider how meat is produced and marketed in this country.

Sunday January 4, 2004
Nutrition: How Do You Know if You're a Good Candidate for Low-Carb?
It's true, as the establishment diet gurus are constantly saying, that all diets work well - you just need to choose one you like and stick with it. That's right - unless you have a metabolic problem. But how do you know?

Sunday January 4, 2004
Nutrition: Fuzzy Low-Carb Math
Lucky for us, low-carb products are all over the place these days. But are they really low-carb?

Thursday August 28, 2003
Nutrition: Playing Catch-Up
Newshounds will have noted two hot new studies touting the health benefits of Reveratrol (the compound in red wine, especially wine from cold climates) and chocolate (which lowers blood pressure a bit, among other good works.)

Thursday August 28, 2003
Nutrition: More on Trans Fat
In the Health Journal column of the August 25th Wall Street Journal, Tara Parker-Pope finds some fascinating information on labels in the supermarket.